ADMIRAL PIETT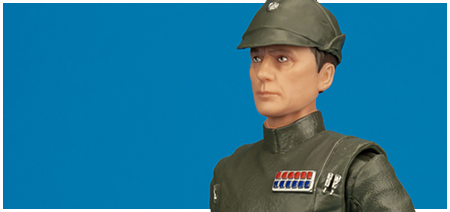 The Black Series
An ambitious Imperial officer, Piett rose through the ranks to captain and was assigned to the Super Star Destroyer Executor, Darth Vaderís flagship. When Vader strangled Admiral Ozzel, Piett was granted a battlefield promotion to admiral ó and given a grisly warning of the penalty for failure.
The Admiral Piett 6-inch action figure was announced as an online exclusive addition to The Black Series on May 3, 2018. We reported on July 5, 2018 that EB Games will release the figure in their stores across Canada, and following the trend at the time of its release, it made it to Canadian collectors first three weeks later.

Product Information
Manufacturer:
Hasbro
Source:
The Empire Strikes Back
Year:
2018
Original Retail Price:
$19.99 USD / $29.99 CND
Assortment Number:
E2813
SKU:
6 30509 70479 8
What's In The Box?
Admiral Piett Action Figure
Officerís Cap
BlasTech DL-21 blaster pistol
Photography by D. Martin Myatt
Page built & Text by Adam Lamping
comments powered by

Disqus