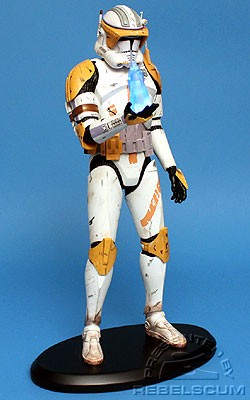 COMMANDER CODY
(Order 66)
Source:
Revenge of the Sith
Year:
2011
Assortment:
1/5 Scale Statues
Retail:
295.00 €
Assortment Number:
SW101
UPC Number:
3700472002591
Limited Edition Number:
287 of 750
Weapons and Accessories:
• Light-Up Hologram
Comments:
Send in the clones with this Star Wars Commander Cody Order 66 Statue! It features the Republic-loyal Commander Cody receiving orders from the Emperor via hologram. Imported from France, the exquisitely detailed 1:5 scale sculpture stands approximately 15 3/4-inches tall and is limited to just 750 cold-cast pieces worldwide. Execute your order for this fine statue immediately!
Points of Interest:
•
Commander Cody (Order 66)
measure 15.75" tall.
• The right gauntlet includes an on/off switch for the holographic representation of Emperor Palpatine.
• Photography by Chris Wyman

Back To Attakus