BT-1 (BEETEE)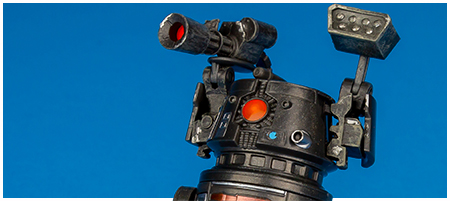 The Black Series
A hostile astromech droid, BT-1 (Beetee) works with Doctor Aphra alongside the protochol droid 0-0-0 on destructive missions. The black metal-plated droid is heavily armed with flamethrowers and other destructive weapons.
Released as part of Wave 21 of 2019's The Black Series assortment, The #88 BT-1 (Beetee) action figure featured on this page is a sculpt debut. BT-1 was officially revealed at 2018 New York Comic-Con. This extra-violent droid features [accessories]. BT-1 began shipping in mid-June 2019, alongside Obi-Wan Kenobi (Padawan), Chopper (C1-10P), Ezra Bridger, Doctor Aphra, and 0-0-0 (Triple Zero).

Product Information
Manufacturer:
Hasbro
Source:
Marvel's Doctor Aphra
Year:
2019
Original Retail:
$19.99
Product Number:
E4079/B3834
UPC Number:
6 30509 79399 0
What's In The Box?
BT-1 (Beetee) Action Figure
Left Head Plate
Right Head Plate
2x Massive Head Cannons
2x Inert Leg Panels
2x Leg Rocket Panels
Photography by D. Martin Myatt
Text by B. Acree
Page built by Adam Lamping
comments powered by

Disqus