BOBA FETT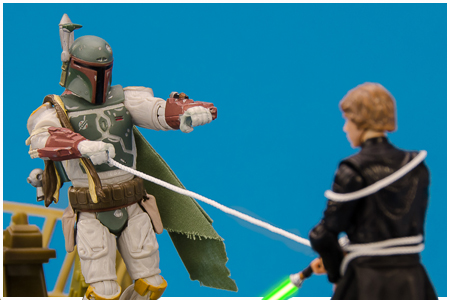 Return of the Jedi
In 2011, Hasbro released a
Return Of The Jedi version of Boba Fett
in
The Vintage Collection
. While it retained the VC09 designation, this version was based on the 2004
The Original Trilogy Collection
Vintage
Boba Fett
and was packaged on a card with the
Return Of The Jedi
layout on both the front and back. Follow this link to see
The Empire Strikes Back VC09 Boba Fett
figure from 2010.
Hasbro revealed four of the figures in the first wave of
The Vintage Collection
at the UK Toy Fair in January 2010, but the first wave, which included new figures based on
Dengar
,
Leia (Hoth Outfit)
,
Han Solo (Echo Base Outfit)
,
Luke Skywalker (Bespin Fatigues)
, the generic and very Kenner-esque
AT-AT Commander
,
C-3PO (See-Threepio)
with removable panels, the first ever single carded
Dack Ralter
,
(Twin-pod) Cloud Car Pilot
and
Darth Vader
along with repacked
4-LOM
and
Boba Fett
figures; wasn't fully revealed until the
International Toy Fair
the following month. This assortment began showing up in July 2010.
In the U.S., all eleven figures shipped with starburst stickers on the card front and pamphlets in the blister for a mail away Kenner style Boba Fett figure with a rocket-firing feature. In Canada, the initial release, which was found only at Walmart stores, didn't have the offer, so there were no stickers or pamphlets included. By the time the figures hit Toys "R" Us Canada, however, the offer was included. For whatever reason the stickers misspelled Fett's name as 'Bobba'.

Product Information
Manufacturer:
Hasbro
Year:
2011
Original Retail:
$8.99
Assortment Number:
35898/97568
Placement Number:
VC09
UPC Number:
6 53569 64630 3
What's In The Box?
Boba Fett Figure
Rangefinder
Mitrinomon Z-6 Jet Pack
BlasTech EE-3 Carbine Rifle
About This Figure
The Return Of The Jedi VC09 Boba Fett is a repaint of the 2004 Original Trilogy Collection Vintage Boba Fett
U.S. Card Variations
There were two versions of the Return Of The Jedi VC09 Boba Fett card backs available at retail. The F2.3 B4.5 FS2.2 BS(N/A) version had the Return Of The Jedi logo and the F3.3 B5.5 FS2.2 BS(N/A) version had the Revenge Of The Jedi logo.
The Return Of The Jedi VC09 Boba Fett was originally released as part of the 2011 San Diego Comic-Con Exclusive Revenge of the Jedi Death Star Set. This version of the card back, which was never available at retail, didn't have the send away sticker or order form.
North American Tri-Logo Card Variations
Just like the U.S. figures, Canada received the Return Of The Jedi VC09 Boba Fett action figure on both Return Of The Jedi and Revenge Of The Jedi logo card backs
Related Figures
Photography by Rich Alot
Additional Photography by Suzan Lund and D. Martin Myatt
Text by D. Martin Myatt
U.S. Card Variations Catalogued by Vince Zannelli
Canadian Card Variations Catalogued by Scott McDonald
Page Built by Adam Lamping
comments powered by

Disqus