DJ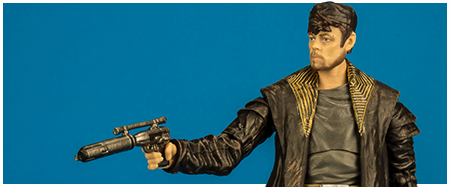 The Black Series Action Figure
A thief whose tattered, threadbare clothes and lackadaisical attitude conceal a sharp mind and expert codebreaking skills, DJ believes there's no difference between sides in this new galactic war.
The 57 DJ (Canto Bight) featured on this page marked a major turning point in Hasbro's The Black Series 6-inch action figure collection. The Pawtucket toymakers developed a new printed paint design that offers incredible detail, and uncanny character likeness. It began hitting shelves in January, 2018 along with the 58 Rey (Island Journey) and regular release 59 Clone Captain Rex.

Product Information
Manufacturer:
Hasbro
Source:
The Last Jedi
Year:
2018
Original Retail Price:
$19.99
Assortment Number:
E0622/B3834
SKU:
6 30509 61596 4
What's In The Box?
DJ Action Figure
Glie-44 Blaster
Relby K-25 Blaster (Heavy Configuration)
Removable Trenchcoat (Vest Only)
Photography & Text by D. Martin Myatt
Page built by Adam Lamping
DJ (First Order Disguise)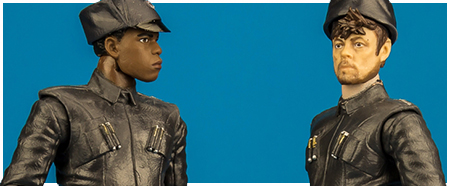 Customizing Potential
comments powered by

Disqus