DEATH STAR TROOPER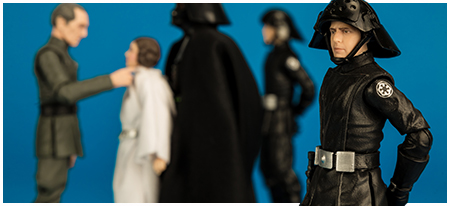 The Black Series Action Figure
Death Star Troopers were the elite of the Imperial Navy who were stationed aboard the first and second Death Star. They were responsible for piloting the super-structure to its destinations and firing the super laser on the orders of those in command of the station. They wore black uniforms and flared, reflective helmets.
The 60 Death Star Trooper figure featured on this page is a stellar repaint of the previously released Death Squad Commander action figure from the 40th Anniversary collection. It shipped as part of The Black Series 6-inch action figure collection along with 61 Jawa, 62 Han Solo, 63 Grand Moff Tarkin, 64 Range Trooper, and 65 Lando Calrissian. This assortment had a street release set for April 13, 2018 as part of the Solo: A Star Wars Story product roll out, however many retailers disregarded the warnings on the shipping boxes and released their inventory as early as a month before slated release.

Product Information
Manufacturer:
Hasbro
Source:
Star Wars: A New Hope
Year:
2017
Original Retail Price:
$19.99
Assortment Number:
E1228/B3834
SKU:
6 30509 61597 1
What's In The Box?
Death Star Trooper Action Figure
Removable Helmet
DH-17 Blaster Pistol
Photography & Text by D. Martin Myatt
Page built by Adam Lamping
comments powered by

Disqus