DENGAR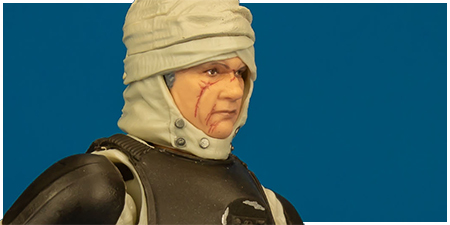 The Black Series
Crude and slovenly, Dengar was nonetheless an effective bounty hunter. While some hunters prided themselves on finesse and style, Dengar preferred firepower and destruction.
The Dengar action figure featured on this page was officially revealed in The Black Series display in Hasbro's 2018 International Toy Fair showroom. As release dates go, this rapscallion ended up as the last 6-inch action figure collectors needed to recreate the iconic bounty hunter lineup from The Empire Strikes Back when it hit shelves the following November. Its debut release was shared with Princess Leia Organa (Hoth), Lando Calrissian (Skiff Guard), and Rio Durant.

Product Information
Manufacturer:
Hasbro
Source:
The Empire Strikes Back
Year:
2018
Original Retail:
$29.99
Assortment Number:
E1215/B3834
UPC Number:
6 30509 68506 6
What's In The Box?
Dengar Action Figure
Backpack
BlasTech DLT-19 heavy blaster rifle
BlasTech DL-21 blaster pistol
Text & Photography by D. Martin Myatt
Page built by Adam Lamping
comments powered by

Disqus