04 DEWBACK & SANDTROOPER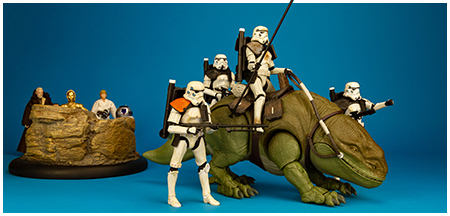 The Black Series
Stormtroopers dispatched to desert worlds wear specialized gear and are nicknamed sandtroopers. Sandtroopers wear standard stormtrooper armor augmented with cooling units, a helmet sand filter, and a survival backpack with extra rations and water. While hunting for the Death Star plans on Tatooine, sandtroopers used native dewbacks as mounts.
Rugged reptiles with thick hides, dewbacks are plodding but reliable mounts. When prodded by their riders, they are capable of brief bursts of surprising speed.
The Black Series 04 Dewback & Sandtrooper 6-inch scale set featured on this page was announced and revealed at the 2017 San Diego Comic-Con. This must-have set features a brilliantly repainted Sandtrooper and a gorgeous creature sculpt debut that features multiple points of articulation and fantastic paint applications. It was slated for release on April 13, 2017 as part of Lucasfilm's international Solo: A Star Wars Story product launch event, but many retailers in North America chose to ignore the street date information on the shipping boxes allowing collectors to purchase it weeks before they should have been able to.

Product Information
Manufacturer:
Hasbro
Year:
2018
Original Retail:
$59.99
Assortment Number:
E0333
UPC Number:
6 30509 61117 1
What's In The Box?
Dewback
Saddle
Sandtrooper (Grey Pauldron) Action Figure
BlasTech DLT-19 Heavy Blaster Rifle
Removable Backpack
Electro-pole
Text & Photography by D. Martin Myatt
Page Built by Adam Lamping
comments powered by

Disqus