KEZ-IBAN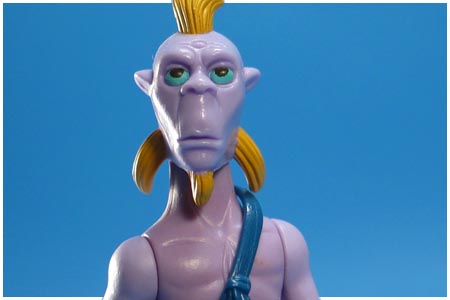 Droids Series Action Figure
Released in 1985, Kenner's
Droids
action figure collection was inspired by the Nelvana animated series of the same name. The line was shortlived and only saw one wave of action figures released including Artoo-Detoo (R2-D2), A-Wing Pilot, Boba Fett, Jann Tosh, Jord Dusat, Kea Moll, Kez-Iban, See-Threepio (C-3PO), sise Fromm, Thall Joben, Tig Fromm, Uncle Gundy, and in Brasil only, Vlix (via Glasslite).
Of all the figures in the first ľand only- wave, all but the A-Wing Pilot and Boba Fett were unique. The Artoo-Detoo (R2-D2) figure was a repaint of The Power Of The Force Artoo-Detoo (R2-D2) With Pop Up Lightsaber figure and the See-Threepio (C-3PO) figure was a repaint of The Empire Strikes Back See-Threepio (C-3PO) With Removable limbs figure. The Boba Fett came with a Stromtrooper blaster moulded in black plastic. Only the Droids and The Power Of The Force versions of Fett have the black version of the weapon. All other figures were completely new sculpts.
A second wave was underway and planned for a 1986 release but never saw production. The second wave, had it hit shelves would have included Admiral Screed, Gaff, General Koong, Jessica Meade, Mon Julpa, Mungo Baobab, Kleb Zellock, and a domestically released Vlix figure.

Product Information
Year:
1985
Original Retail:
$2.99
Accessories
Black Stormtrooper Blaster
Satchel
Coin
Whatchu Gotta Know:
There is a variation on the front of this figure's coin. The character name is either "KEZ-Iban" or "KEZ IBAN".
Coin Text: An Alien from TAMMUZAN who has been stripped of his mind by the evil Vizier ZATEC-CHA. JANN TOSH rescues him from KLEB ZELLOCK.
Photography & Text by D. Martin Myatt