05 ENFYS NEST'S SWOOP BIKE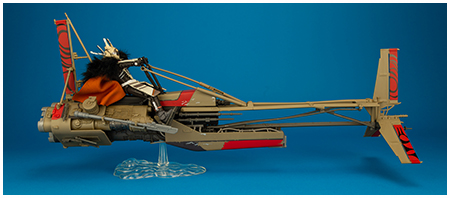 The Black Series
An extremely dangerous marauder, Enfys Nest is brutally carving out a nefarious reputation for herself and her gang of swoop-riding pirates, the Cloud-Riders.
The Cloud-Rider gang led by Enfys Nest terrorizes the skies atop their mean-looking swoop bikes. Little more than engines with seats, swoops are hard to control but capable of incredible speed.
Though rumored for months, Hasbro officially released images on May 25, 2018 and product information four days latter. It began hitting shelves the following July.

Product Information
Manufacturer:
Hasbro
Source:
Solo: A Star Wars Story
Year:
2018
Original Retail:
$59.99
Assortment Number:
E0332
UPC Number:
6 30509 67576 0
What's In The Box?
Swoop Bike (7 pieces)
Stand
Enfys Nest Action Figure
Electroripper Staff
Bantha-fur insulating wrap
Instructions
Text & Photography by D. Martin Myatt
Page Built by Adam Lamping
comments powered by

Disqus