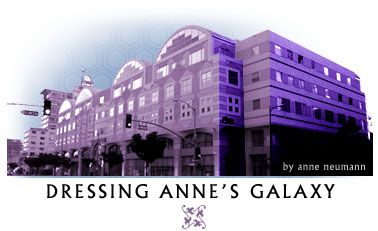 I was recently in Los Angeles, CA for a convention and decided to make my way downtown to the FIDM (The Fashion Institute of Design & Merchandising) and check out the Lucasfilm Dressing a Galaxy exhibit. I expected to see a few costumes (hadn't I seen them in the movies already?) and head back early to the hotel.

Hours later I wished I had more time, because this exhibit was exceptionally stunning and fresh! If you have not been properly motivated to make the trip I would encourage you to make plans to see this exhibit (to say nothing of the trip-worthy gift shop dedicated to Star Wars). It will only be at FIDM through December 10, 2005 and it will not travel, like the Magic of Myth exhibit did some years back. Admission is $5-$8.


The show features 100 costumes worn on all 6 films. These are the originals, not reproductions. They are grouped by theme such as the Jedi, Sith, and Royalty, similar to the
Dressing a Galaxy
book. Throughout the various rooms a copy of the book is available for reference as you look at the costumes. A life-size replica of an X-Wing Starfighter greets you at the door and there is always music from the soundtrack playing in the background.

The first thing a visitor will notice is that FIDM has removed any visual barriers that might typically accompany such an exhibit. The mannequins are a mere arms length away. However, that doesn't mean you should reach out and touch someone, as the alarms will be triggered. Instead, there is a unique "Touching Wall" with samples of fabrics that you are allowed to caress to your satisfaction.
This exhibit is primarily about light. Seen on screen, while we are normally caught up in the story, costumes are almost background scenery. But the fashion of Star Wars is distinct and is as much a part of the universe as is the music. One immediately knows a Jedi Knight by their earthy colors, long robes, and practical accessories. The queens of Naboo appear almost Japanese, ornate and commanding. The Sith are dark robed creatures reminiscent of the red and black lava of Mustafar.

And though these colors and designs are seen on the big screen and in books, those media can not come close to reflecting the true nature of the fabric and design. Some of these elaborate costumes may have only been onscreen for a few fleeting seconds. On the page they are flat and do not fully reveal their secrets. Again, this exhibit is about light - these costumes are so full of texture and color and dimension that as you walk past they change before your eyes. They have a different reality when seen from the left then when seen from the right.
Most notably are those fabrics that reflect more than one color. They either have a depth to them whereby the backing is one color and the fringe is another, or they have various colors woven together so that depending on the angle the color appears to be different. The colors are almost always complementary: blue and orange, green and purple or triadic in nature, orange, purple and green. But they are never bright; they are warm, rich and deep.
Another striking component is the texture of the fabric. Many have been embroidered or beaded, shaved or pleated giving the design a regal, sophisticated or innocent look. Many times it is this texture that allows the multiple colors to be seen at one time giving the fabric an iridescence. This works well to give the costumes more depth on film and incredible dimension in person.
Finally, the costume design itself makes a statement about the characters. Fabrics used on the pragmatic Jedi seem insubstantial, but are full of weighty texture enhanced by the many layers.
Anakin's
dark chocolately material reflects his inner brooding while the delicate rosy folds of
Shaak Ti's
dress bespeak an easy calm.
Emperor Palpatine's
blood-red robes are velvety smooth, yet are layered in texture, much like his character. Yet it is almost monochromatic compared to the others, indicating his single-mindedness.
Padmé's beautiful fashion has elements of the serious senator or the elegantly feminine and sorrowful mother of Luke and Leia. The undeniable star of the exhibit is Padmé's
dressing gown
from
Attack of the Clones
and is the prime example of color, texture and design all coming together in what is undoubtedly a fantastic work of art. It is made of more than 20 yards of velvet that took a month to hand-pleat into what looks like woven fabric reflecting blue and bronze.
---
Below are images of various full costumes and then an accompanying detail shot to show how the colors and textures become more visible in close proximity.
---
Finally, to accompany a great exhibit, Judy Yaras, FIDM Museum Shop Manager, has put together a top-notch
Star Wars
store
full of collectibles that you would never see in the same room if you ever saw them anywhere at all. This is a shopping spree you must not miss. Here you'll find Master Replicas, Gentle Giant, Sideshow Collectibles, C&D Visionary, Hasbro, DK, Rubies, AMT, Rawcliffe, Code 3 and many others. There are also some special show exclusives, all licensed by Lucasfilm, that will not be available anywhere else.
The Queen Amidala Special Edition scarf is made of 100% silk and comes in two color choices. Each of these are hand-painted by L.A. artist Cecily Gilman and there are only 75 of each color available. $165.00 each.
There are three great cotton exhibition T-Shirts: Darth Vader, Queen Amidala, and Chewbacca. Each has the FIDM logo on the sleeve. These are european-fit, meaning they run small and will shrink, so pick your size accordingly. $30.00 each.
Also made for this show are two Rebel Princess girls and ladies t-shirts, a Sith tank top ($20) and Sith hoodie ($60).
Finally there's the ubiquitous poster ($10) and unique magic cube which is limited to 2000 units at $9.50.
---
The most important realization that I took away from this exhibit is that
Star Wars
continues to and will always influence the world in fun and unexpected ways. Some of the students who worked in the store told me that after having experienced this show they were now concentrating on costume design in their studies (FIDM allows students to do research in the exhibit in the mornings). Another said that she was now a "
Star Wars
junkie all of a sudden" and was starting a collection of her own. One guy was working in the store for free just so he could be around
Star Wars
! The FIDM and Lucasfilm Dressing a Galaxy exhibit is just one more indication that
Star Wars is Forever.