GENERAL LEIA ORGANA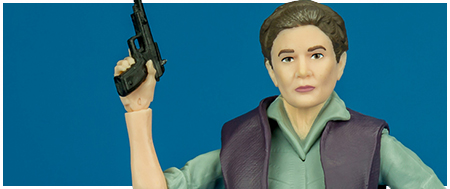 The Black Series Action Figure
Despite all that she has endured and lost in a lifetime of war, General Leia Organa continues to shine as a beacon of hope for the loyal soldiers of the Resistance under her command.
In some regions of the United States, the wave of The Black Series 6-inch action figure collection that included the 52 General Leia Organa action figure featured on this page, was available at retail outlets on September 1, 2017 as part of Lucasfilm's International Force Friday II event. The assortment also included 49 Maz Kanata, 50 Elite Praetorian Guard, 51 Finn (First Order Disguise), 53 Captain Poe Dameron debut releases along with the previously released 31 AT-AT Driver, 35 Snowtrooper, and 45 Kylo Ren.

Product Information
Manufacturer:
Hasbro
Source:
The Force Awakens
Year:
2017
Original Retail Price:
$19.99
Assortment Number:
C3291/B3834
SKU:
6 30509 58854 1
What's In The Box?
General Leia Organa Action Figure
Blaster Pistol
Photography & Text by D. Martin Myatt
comments powered by

Disqus