HAN SOLO (BESPIN)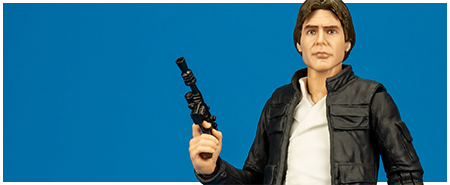 The Black Series
Smuggler. Scoundrel. Hero. Han Solo, captain of the Millennium Falcon, was one of the great leaders of the Rebel Alliance. He and his co-pilot Chewbacca came to believe in the cause of galactic freedom, joining Luke Skywalker and Princess Leia Organa in the fight against the Empire.
Revealed in their showroom at the 2018 International Toy Fair, Hasbro's 70 Han Solo (Bespin) action figure, along with the 68 Tobias Beckett and 69 Rebel Trooper figures, began hitting shelves in North America the following July. Though utilizing the same mold, this figure differs from the Han Solo (Exogorth Escape) released around the same time. This version has a simpler paint scheme and doesn't include the the added accessories of additional pointing hand featured in the limited edition convention exclusive set.

Product Information
Manufacturer:
Hasbro
Source:
Star Wars Episode V: The Empire Strikes Back
Year:
2018
Original Retail:
$19.99
Assortment Number:
E1211/B3834
UPC Number:
6 30509 69830 1
What's In The Box?
Han Solo Action Figure
BlasTech DL-44 Heavy Blaster
Text & Photography by D. Martin Myatt
Page built by Adam Lamping
comments powered by

Disqus