HAN SOLO (EXOGORTH ESCAPE)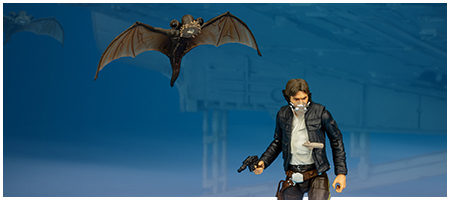 The Black Series 2018 SDCC Exclusive
Han Solo, captain of the Millennium Falcon, was one of the great leaders of the Rebel Alliance. In the wake of the of the battle of Hoth, Solo fled with the rest of the RebelForces and evaded the pursuit of Imperial TIE Fighters as he expertly maneuvered the Falcon towards the perceived safety of a crater in the Hoth asteroid belt. Infamous for his bold plans that seemed to always defy the odds, Solo soon discovered that the unstable crater upon which he had landed the Falcon - and its crew made up of co-pilot Chewbacca, Princess Leia Organa, and C-3PO - was in fact the cavernous mouth of a giant space slug known as an Exogorth. In the belly of the beast, Solo and crew discovered an inhospitable environment of noxious fumes and parasitic, swooping Mynocks - bat-like creatures who ate through power cables and drained the energy from even the most impressive ships. With the life of his comrades and beloved Millennium Falcon threatened, Solo was called again to emergency action, and steered the Falcon to safety, barely escaping into space through the rapidly collapsing jaws of the ravenous Exogorth.
Hasbro's The Black Series convention exclusives for 2018 were announced on June 13th, with an exclusive reveal at Entertainment Weekly, that gave a first look at both the set on this page, as well as the Starkiller Base Centerpiece featuring Rey and Kylo Ren from The Force Awakens. First sold at San Diego Comic-Con 2018, Han Solo - Exogorth Escape was subsequently made available at select conventions and HasbroToyShop.com. The figure in this set is the same as the Han Solo (Bespin) that was released in wave 18 of The Black Series single 6-inch line.

Product Information
Manufacturer:
Hasbro
Source:
Star Wars Episode V: The Empire Strikes Back
Year:
2018
Original Retail Price:
$34.99
Assortment Number:
E1629
SKU:
6 30509 66363 7
What's In The Box?
Han Solo Action Figure
BlasTech DL-44 Heavy Blaster
Breathing mask
Hydrospanner
2x Unique Switch Out Left Hands
Mynoch Action Figure
Photography by D. Martin Myatt
Page built & Text by Adam Lamping
comments powered by

Disqus