HAN SOLO (MIMBAN)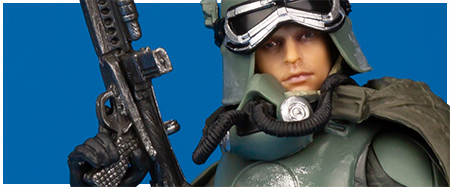 The Black Series
After getting kicked out of the Imperial Academy, Han Solo found himself dumped on Mimban as a mudtrooper. While there, Han met an Imperial prisoner named Chewbacca in an encounter that would change his life.
The 78 Han Solo (Mimban) featured on this page was released as part of the twentieth wave of The Black Series 2019 assortment. Han is a sculpt debut, and was officially revealed at the 2018 Unboxing Toy Convention in Mexico. His accessories include a helmet, goggles, gas mask, removable plastic poncho, and a blaster rifle with attachment. Han began shipping in February, 2019 along with the Battle Droid, Padmé Admidala, Vice Admiral Holdo, Dryden Vos, and Mace Windu action figures

Product Information
Manufacturer:
Hasbro
Source:
Solo: A Star Wars Story
Year:
2019
Original Retail:
$19.99
Product Number:
E4069/B3834
UPC Number:
6 30509 77688 7
What's In The Box?
Han Solo Action Figure
Helmet
Blaster Rifle
Cape
Goggles
Gas Mask
Photography by D. Martin Myatt
Text by B. Acree
Page built by Adam Lamping
comments powered by

Disqus