SPEEDER BIKE WITH BIKER SCOUT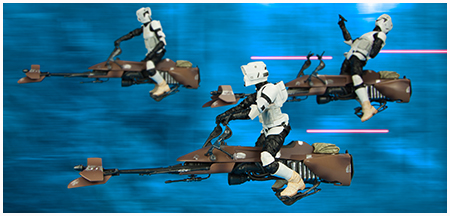 Toys 'R' Us Exclusive Multipack
Chased by Rebels, Biker Scouts race their Speeder Bikes through the Endor forest. The Biker Scouts weave at breakneck speed through the trees, trying to outrun the Rebels so they can warn the shield generator station of the enemy's presence."Call for help! Go!"
Displayed in their showroom at the 2014 International Toy Fair, the first wave of Hasbro's The Black Series deluxe 6-inch line included Jabba the Hutt and the Speeder Bike with Scout Trooper, shown here. Both sets began hitting shelves the following September.
U.S. Product Packaging
North American Tri-Logo Product Packaging

Product Information
Manufacturer:
Hasbro
Year:
2014
Original Retail:
$39.99
Product Number:
A6588/A7808
UPC Number:
6 53569 94421 8
What's In The Box?
Biker Scout Action Figure
Blaster Pistol
Speeder Bike
Clear Stand
About This Set
The Speeder Bike's stand can be set at three different heights by switching which ball goes into the socket under the Bike.
Text & Photography by D. Martin Myatt
Page Built by Adam Lamping
comments powered by

Disqus