IMPERIAL SHADOW SQUADRON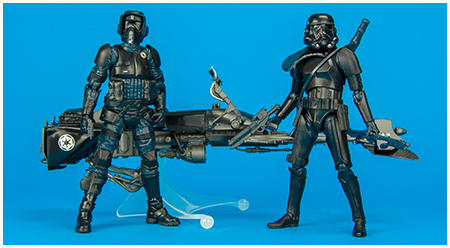 Target Exclusive Multipack
Shadow Scouts ride Speeder Bikes on their covert missions. Commanders and Troopers in this elite squadron wear specialized cloaking armor that makes them virtually invisible. Their Speeder Bikes have similar technology, making these Troopers very successful at ambushing their targets.
The Target exclusive Imperial Shadow Squadron, which comprised of repaints of previously released figures, was officially revealed during Hasbro's Star Wars presentation at the 2014 San Diego Comic-Con and began hitting shelves the following October.
U.S. Product Packaging

Product Information
Manufacturer:
Hasbro
Year:
2014
Original Retail:
$49.99
Product Number:
B0554
UPC Number:
6 30509 26720 0
What's In The Box?
Shadow Scout Action Figure
Blaster Pistol
Speeder Bike
Clear Stand
Shadow Stormtrooper Commander Action Figure
Black Pauldron
BlasTech E-11 Blaster Rifle
BlasTech DLT-19 Heavy Blaster Rifle
BlasTech T-21 Repeating Blaster Rifle
About This Set
The Speeder Bike's stand can be set at three different heights by switching which ball goes into the socket under the Bike.
Both the Speeder Bike and the Shadow Scout figure in this set are repaints of the same toys packaged in the previously released Speeder Bike with Biker Scout set released in The Black Series' 2014 deluxe 6-inch assortment.
The Shadow Stormtrooper Commander is a repaint of the 2013 #03 Sandtrooper from the first wave of The Black Series 6-inch collection.
Related Figures
Text & Photography by D. Martin Myatt
Page Built by Adam Lamping
comments powered by

Disqus