IG-88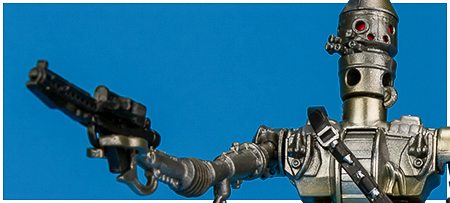 The Black Series Archive
A battered war droid who has become a bounty hunter, IG-88 answers Darth Vader's call to capture the Millenium Falcon [SIC] after the Battle of Hoth.
The Black Series Archive collection was announced at Hasbro's Star Wars panel at the 2018 San Diego Comic-Con. Designed to give newer collectors a shot at acquiring the most sought after previously released figures on blister cards. While the Archive editions don't come with new accessories, Hasbro's quest to provide the best products they can has allowed for this special sub-line to utilize current paint applications. The IG-88 figure featured on this page was released in January, 2019 as part of the collection's fist wave. It shipped with Boba Fett, Bossk, and Luke Skywalker (X-Wing Pilot).

Product Information
Manufacturer:
Hasbro
Source:
The Empire Strikes Back
Year:
2019
Original Retail:
$19.99
Assortment Number:
E4040/E3253
UPC Number:
6 30509 76654 3
What's In The Box?
IG-88 Action Figure
BlasTech E-11 Blaster
BlasTech DLT-20A Blaster Rifle
Bandolier
Vibro-Axe
Text & Photography by D. Martin Myatt
Page Built by Adam Lamping
comments powered by

Disqus