IMPERIAL PATROL TROOPER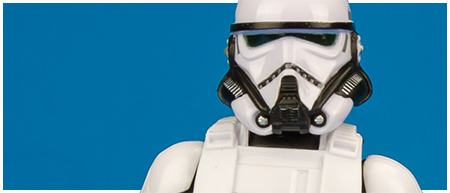 The Black Series
As the Empire reinforces its hold on worlds across the galaxy, local defense forces are being supplemented - and eventually completely replaced - with Imperial Stormtroopers. To cover distances across sprawling settlements and cities, Patrol Stormtroopers police the streets and alleys aboard swift interceptor speeder bikes.
The Imperial Patrol Trooper action figure featured on this page was officially revealed by Hasbro July 19, 2018. After having some private time with a small group of people at the annual breakfast press event, the figure was put on public display in Hasbro's booth at the 2018 San Diego Comic-Con. This figure began hitting selves in GameStop in the U.S. in October 2018 along with 71 Val (Vandor-1) and 73 L3-37.

Product Information
Manufacturer:
Hasbro
Source:
Solo: A Star Wars Story
Year:
2018
Original Retail:
$29.99
Assortment Number:
E1216/B3834
UPC Number:
6 30509 73297 5
What's In The Box?
Imperial Patrol Trooper Action Figure
EC-17 Hold-out Blaster Pistol
Stun Baton
Text & Photography by D. Martin Myatt
Page built by Adam Lamping
comments powered by

Disqus