BESPIN WORLD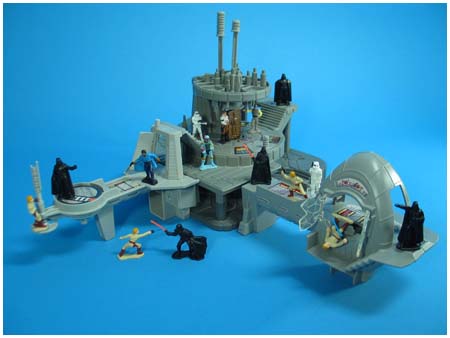 Micro Collection Playset

One can argue that, when it was initially introduced in 1982, Kennerís Micro Collection was designed to push Return Of The Jedi toys in a direction not explored with the first two Star Wars films. The line, which included only twelve pint-sized playsets and four vehicles, looked past figure articulation in order to provide fans with interactive environments, and in a lot of ways paved the way for the modern high-end collector market.

The Micro Collection was more the first legitimate Star Wars collectible and much less a toy, at least in the traditional sense. Even though most of the sets in the short-lived series featured special action features, it was truly designed as a display piece, and when introduced in 1982 the individual pieces sported a price much higher than comparable products in Kennerís action figure line.

Each set featured a plastic playset or vehicle and an assortment of painted 1 1/4" scaled diecast figures. These figures were easy to damage and kids learned quickly to take care of their new mini Star Wars collection. While commercially the line was a failure, it did appeal to a certain demographic within the Star Wars collecting community, and many of the fans for this line can be found buying up Sideshow Collectibles, Gentle Giant, & Attukus statues and eFX (& formerly Master Replicas) replicas. The seed for the high-end collectible was planted by Kenner with the Micro Collection.

The Bespin World Action Playsets set gave collectors all three individual environments and all sixteen figures form the sets in one box. Beyond renaming of the Bespin Control Roomís Luke Skywalker (Searching) figure as Luke Skywalker (Aiming Gun) & Darth Vader (Using The Force) as Darth Vader (Pointing), The Gantryís Luke Skywalker (Without Hand), and the Freeze Chamberís Darth Vader (In Command) as simply Darth Vader, everything included in the Bespin World set matched the three single packed Micro Collection sets.

Had the line not been cancelled early, the Death Star sets would have been accompanied by the Emperorís Throne Room as seen in Return Of The Jedi. In addition, the Bacta Chamber playset would have been produced for the Hoth World collection, the Torture Room would have been produced for the Bespin World collection, and Dagobah and Jabbaís Palace would have bridged the line to Return Of The Jedi.

Year: 1982
Assortment #:69940
Original Retail Price #:$24.99
Whatís In The Box?

Bespin Freeze Chamber (4 pieces)
Bespin Gantry (6 pieces)
Bespin Control Room (3 pieces)
Darth Vader (Fighting)
Luke Skywalker (Aiming Gun)
Darth Vader (Beckoning)
Luke Skywalker (Falling)
Lando Calrissian
Stormtrooper (Guarding)
Darth Vader
Luke Skywalker (Fighting)
Boba Fett
Luke Skywalker (with No Arm)
Han Solo (Unfrozen)
Han Solo (Frozen)
Darth Vader (On Guard)
Lobot
Stormtrooper (Aiming Gun)
Darth Vader (Pointing)
Sticker Sheets
Star Wars Toys Booklet
Revenge Of The Jedi Ashcan



Photography & Text by D. Martin Myatt


Back To Kenner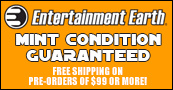 NEW IN THE PHOTO ARCHIVE: