LANDO CALRISSIAN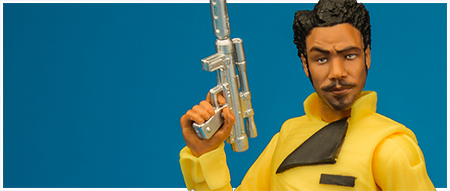 The Black Series Action Figure
Smooth and sophisticated, Captain Lando Calrissian stands ready to retire from the life of a smuggler and instead become a full-time gambler (or "sportsman", as he calls it), shuffling from card game to card game across the galaxy.
The 65 Lando Calrissian featured on this page is a 100% sculpt debut. It shipped as part of The Black Series 6-inch action figure collection along with 60 Death Star Trooper, 61 Jawa figure, 62 Han Solo, 63 Grand Moff Tarkin, and 64 Range Trooper. This assortment had a street release set for April 13, 2018 as part of the Solo: A Star Wars Story product roll out, however many retailers disregarded the warnings on the shipping boxes and released their inventory as early as a month before slated release.

Product Information
Manufacturer:
Hasbro
Source:
Solo: A Star Wars Story
Year:
2018
Original Retail Price:
$19.99
Assortment Number:
E1206/B3834
SKU:
6 30509 65582 3
What's In The Box?
Lando Calrissian Action Figure
Blaster Pistol (2 pieces)
Scarf
Removable Cape
Photography & Text by D. Martin Myatt
Page built by Adam Lamping
comments powered by

Disqus