RED SQUADRON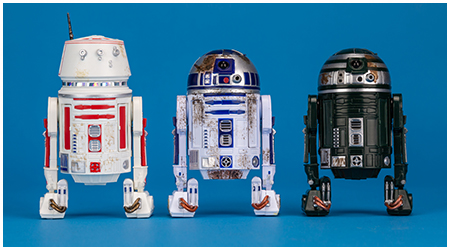 The Black Series Amazon Exclusive Three Pack
R2-D2 - A resourceful astromech droid, R2-D2 showed great bravery in rescuing his masters and their friends from many perils. A skilled starship mechanic and fighter pilot's assistant, he served Luke Skywalker during the Battle of Yavin alongside Red Squadron.
R5-D8 - A red astromech droid used by Jek Tono Porkins - Red Six - during the Battle of Yavin, R5-D8 saw time on both Y-wing and X-wing starfighters during his service to the Alliance.
R2-X2 - Astromech droids are a series of versatile utility robots generally used for the maintenance and repair of starships and related technology. R2-X2 was Theron Nett's droid and served in the Battle of Yavin.
The Amazon exclusive Red Squadron action figure three pack was announced as part of Hasbro's International Toy Fair collectors event in New York City on February 17, 2018. The set that includes the post-battle of Yavin R2-D2, as well as the ill-fated R5-D8 and R2-X2 that didn't survive the Death Star trench run. This set began shipping the following August.

Product Information
Manufacturer:
Hasbro
Year:
2018
Original Retail:
$59.99
Product Number:
E2311
UPC Number:
6 30509 69197 5
What's In The Box?
R2-D2 Action Figure
3x Removable Dome Panels
2x Removable Leg Panels
R5-D8 Action Figure
2x Removable Leg Panels
R2-X2 Action Figure
3x Removable Dome Panels
2x Removable Leg Panels
Text, Photography by D. Martin Myatt
Page built by Adam Lamping
comments powered by

Disqus