SENATE GUARD, IMPERIAL ROYAL GUARD, EMPERORíS SHADOW GUARD, & ELITE PRAETORIAN GUARD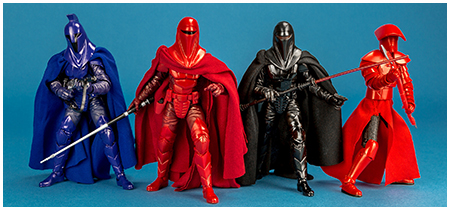 The Black Series Four Pack
The Black Series 6-inch Guard four pack featured on this page offered collectors a second chance to build their Return Of The Jedi Emperor's Royal Guard army and add three debut guards from different eras (and canonical levels) including the Attack Of The Clones Senate Guard, Star Wars Legends Emperor's Shadow Guard, and a second armor configuration for The Last Jedi Elite Praetorian Guard to their collections. This four pack saw release in November 2017 at Disney Parks, GameStop, EB Games, Barnes & Noble, and ThinkGeek.
SENATE GUARD
For centuries, the Senate Guards kept the galaxyís legislators from harm while they went about the Republicís business on the capital world of Coruscant. With the decline of the Republic, the blue guards were eventually phased out by Imperial stormtrooper patrols and the red guard in the Emperorís service.
IMPERIAL ROYAL GUARD
Resplendent in crimson robes and armor, the Imperial Royal Guard protected the Emperor. Secrecy shrouded the Guard, with rumours abounding about the sentinelsí background and combat capabilities.
(LEGENDS) EMPERORíS SHADOW GUARD
Each one of these elite guards is specially chosen by Palpatine for his exceptional loyalty to the Emperor and the Empire, and for his ability to use the Force. Each Shadow Guard carried a pike that can be ignited to use as a lightsaber-like blade.
ELITE PRAETORIAN GUARD
As the Supreme Leader of the First Order, Snoke was flanked by crimson-clad guardians, loyal protectors encased in ornate armor ready to defend the Supreme Leader from any threat.

Product Information
Manufacturer:
Hasbro
Year:
2017
Original Retail:
$79.99
Product Number:
C3249
UPC Number:
6 30509 60281 0
What's In The Box?
Senate Guard Action Figure
Force Pike
Blaster Pistol
Imperial Royal Guard Action Figure
Force Pike
Blaster Pistol
Emperor's Shadow Guard Action Figure
Lightsaber Force Pike (2 pieces)
Blaster Pistol
Elite Praetorian Guard Action Figure
Double Blade (2 pieces)
Text & Photography by D. Martin Myatt
Page Built by Adam Lamping
comments powered by

Disqus