REVENGE OF THE JEDI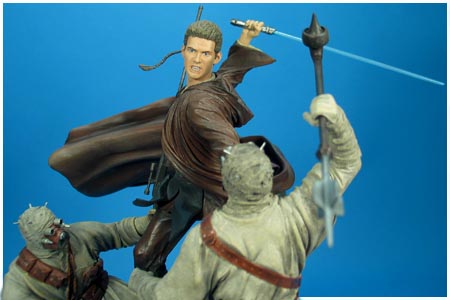 Polystone Diorama
The Revenge Of The Jedi polystone diorama was announced on November 23, 2010 and was put up for pre-order on December 2, 2010. It began shipping in October 2011.

Product Information
Year:
2011
Original Retail:
$299.99
Exclusive Item Number:
2001121
Exclusive Edition Size:
150
Regular Item Number:
200112
Regular Edition Size:
300
What's In The Box?
Base w/ attached Tusken Raider
Anakin Skywalker
2x Unique Tusken Raiders
Tusken Raider Hand holding Rifle
Anakin's Hand w/ Lightsaber
Exclusive Accessory
Severed Tusken Raider Head
Photography & Text by D. Martin Myatt