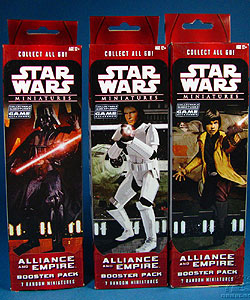 ALLIANCE AND EMPIRE
Booster Packs
Source:
Star Wars
Saga
Year:
2007
Contains:
7 Standard Miniatures
Full-Color Game Stats Cards
Set Checklist
Comments:
For over a thousand generations, the Jedi Knights were the guardians of peace and justice in the Old Republic. Before the dark times. Before the Empire.
Celebrate the 30th anniversary of the Star Wars saga with this selection of miniatures inspired by the original Star Wars trilogy. From the landmark films to the computer games and the novels, this set pits the Rebellion against the Empire in battles to decide the fate of the galaxy.
Points of Interest:
Alliance and Empire is the only set to be released on square bases.
Photography by Dan Curto

Back To Alliance and Empire