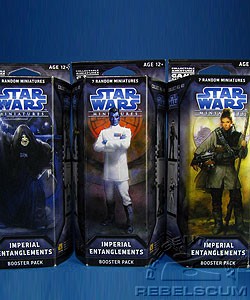 IMPERIAL ENTANGLEMENTS
(Booster Packs)
Source:
Star Wars
Saga
Year:
2009
Special Contains:



7 Miniatures from the Star Wars Universe
Full-color Game Stat Cards
Set Checklist
Comments:
The Empire Strikes Back! The iron grip of the Empire stretches across the galaxy, and only the Rebel Alliance fights to keep the Imperial fist from totally crushing the flickering light of freedom. But the Rebels have the Force on their side...
Points of Interest:
Back to Imperial Entanglements