SALACIOUS CRUMB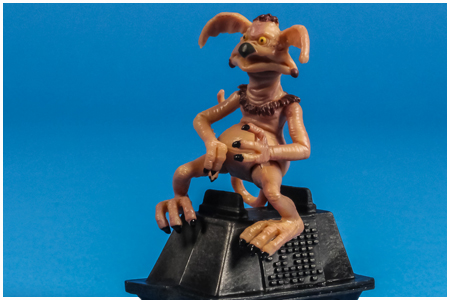 Return of the Jedi
The VC66 Salacious Crumb action figure was one of the two single carded figures made available only in the 2011 San Diego Comic-Con Revenge of the Jedi Death Star Set. Both it and the VC67 Mouse Droid were packaged on smaller scaled Vintage Collection card backs.
At first glance both of these exclusive figures appear to be straight repacks of previously released pieces, but this time out Hasbro added production number stamps to the figures. In the case of Salacious Crumb, this identifying number matches the '11181' date stamp on the back of the card and can be found on his bottom just below the tail. With the limited production run on the figure, which most collectors kept carded, this identifying mark is the only way to prove a loose figure is in fact the SDCC version.

Product Information
Manufacturer:
Hasbro
Year:
2011
Original Retail:
$129.99 (as part of the
Revenge of the Jedi Death Star Set
)
Placement Number:
VC66
UPC Number:
No Barcode on individual card
What's In The Box?
About This Figure
The VC66 Salacious Crumb is one of only two figures Hasbro released on smaller scale card backs in The Vintage Collection and was made available exclusively in the limited edition 2011 San Diego Comic-Con Revenge of the Jedi Death Star Set.
Beyond the '11181' production number stamp on the bottom of the figure, the VC66 Salacious Crumb is a repack of the figure included in the 2007 30th Anniversary No.30 C-3PO & Salaciacious Crumb two pack and 2010 Walmart exclusive Jabba's Throne set.
Photography by Chris Wyman
Text by D. Martin Myatt
Page built by Adam Lamping
Special thanks to Jeff Cobb
comments powered by

Disqus