STARKILLER BASE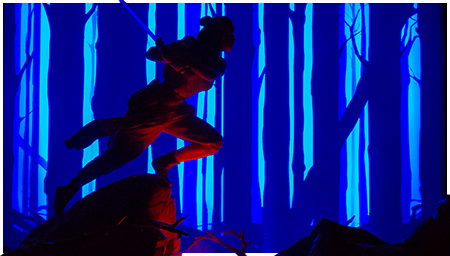 The Black Series Centerpiece San Diego Comic-Con 2018 Exclusive
As the ice-covered tundra of Starkiller Base crumbles, Rey channels the raw power of the Force to defeat the dark warrior, Kylo Ren. Experienced with her salvaged quarterstaff from Jakku, Rey finds that years of practice at hand-to-hand fighting serves her well when she is forced to use a Lightsaber in combat.
When her blue-bladed Lightsaber - one passed through generations of Force users - clashes with Kylo Ren's unconventional fiery blade, Rey recalls the words of Maz Kanata: "Close your eyes... Feel it. The Light. It has always been there. It will guide you."
Though Rey has yet to receive full training, her connection to the Force is as undeniable as she is resilient. While the young scavenger once dismissed herself as "no one", Rey soon realizes that her life is being shaped by the mysterious power of the Force.
Hasbro officially announced the 2018 San Diego Comic-Con exclusive Rey (Starkiller Base) & Kylo Ren Centerpiece figure set on June 13, 2018. The set, based onThe Black Series Centerpiece Rey figure that hit retail shelves in July, 2018, includes an additional display base, a battle ravaged Kylo Ren figure, a special mist feature, and an amazing LED illuminated backdrop was made available to attendees of the 2018 San Diego Comic-Con. AS in years past, Hasbro kept a limited quantity available for online purchase for collectors unable to attend the annual South Californian pop culture event.

Product Information
Manufacturer:
Hasbro
Year:
2018
Original Retail:
$109.99
Assortment Number:
E1627
UPC Number:
6 30509 67091 8
What's In The Box?
Rey Centerpiece Figure
Battle Ravaged Kylo Ren 6-Inch Action Figure
Kylo Ren's Lightsaber Hilt
Kylo Ren's Ignited Lightsaber
Belt
Battle Damaged Outer Robe
Centerpiece Base (4 pieces) w/ Light Up & Mist Features
6x Foot Pegs
LED Illuminated Starkiller Base Backdrop
Instructions
Text & Photography by D. Martin Myatt
Page Built by Adam Lamping
comments powered by

Disqus