SUPREME LEADER SNOKE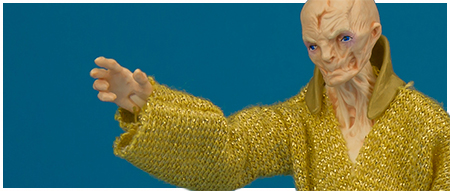 The Vintage Collection Action Figure
Despite Hasbro going on record many times stating The Vintage Collection was only on hiatus, many collectors had it in their head that the line came to an end in 2012. After six year breather the line came back in 2018, continuing right where it left off.
The VC121 Supreme Leader Snoke super articulated 3.75-inch articulated action figure featured on this page is the only sculpt debut in this wave of action figures. It was slated for release on April 13, 2018 as part of Lucasfilm's Solo: A Star Wars Story product, along with VC116 Rey (Jakku), VC117 Kylo Ren, VC118 First Order Stormtrooper, VC119 Jyn Erso, and VC120 Rebel Soldier (Hoth). Many retailers across North America disregarded the street dates clearly marked on the shipping boxes and sold these figures weeks earlier.

Product Information
Manufacturer:
Hasbro
Source:
The Last Jedi
Year:
2018
Original Retail Price:
$12.99
Assortment Number:
E1640/E0370
SKU:
6 30509 61184 3
What's In The Box?
Supreme Leader Snoke action figure
Removable Gold Lamé Robe
Belt
Collar
Photography & Text by D. Martin Myatt
Page built by Adam Lamping
comments powered by

Disqus