REBEL COMMANDO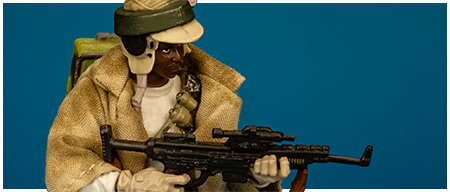 Revenge of the Jedi
Released in November 2010,
Return of the Jedi
was the focus of the third wave of
The Vintage Collection
which comprised virtually all-new figures. Both Yoda and Wedge Antilles appeared at a later date to the rest of the wave, with Hasbro citing production issues as the reason for the delay. Many of the figures in this wave also saw a re-release in 2011 on chase variant
Revenge of the Jedi
cards which were also available in the
San Diego Comic-Con 2011 Exclusive Revenge of the Jedi Death Star Set
.

Product Information
Manufacturer:
Hasbro
Year:
2011
Original Retail:
$8.99
Assortment Number:
21487/97568
Placement Number:
VC26
UPC Number:
6 53569 52898 2
What's In The Box?
Rebel Commando (Black Variant)
Removable Helmet
Blaster
Blaster Rifle
Removable Trench Coat
Backpack
Bandolier / Weapons Belt / Holster
About This Figure
U.S. Card Variations
There were two versions of the Return Of The Jedi VC26 Rebel Commando card backs available at retail, with one having the Return Of The Jedi logo and another version having the Revenge Of The Jedi logo.
North American Tri-Logo Card Variations
Just like the U.S. figures, Canada received the Return Of The Jedi VC26 Rebel Commando action figure on both Return Of The Jedi and Revenge Of The Jedi logo card backs
Related Figures
Photography by D. Martin Myatt
Additional Photography by Suzan Lund
Text by D. Martin Myatt
U.S. Card Variations Catalogued by Vince Zannelli
Canadian Card Variations Catalogued by Scott McDonald
Page Built by Adam Lamping
comments powered by

Disqus