CLONE TROOPER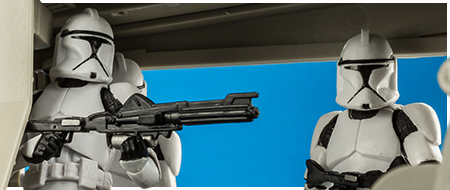 The Vintage Collection Action Figure
The Attack Of The Clones VC45 Clone Trooper action figure featured on this page was released in the sixth single carded wave of The Vintage Collection in March, 2011. The assortment also included VC44 Luke Skywalker (Dagobah Landing), VC46 AT-RT Driver, VC47 General Lando Calrissian, VC48 Weequay (Skiff Master) and VC49 Fi-Ek Sirch (Jedi Knight).

Product Information
Manufacturer:
Hasbro
Source:
Attack of the Clones
Year:
2011
Original Retail Price:
$8.99
Assortment Number:
28437/97568
SKU:
6 30509 62218 5
What's In The Box?
Clone Trooper Action Figure
DC-15 Blaster
DC-15 Blaster Rifle
Removable Helmet
Additional Information:
The sixth wave of The Vintage Collection was not distributed in Canada, as such there are no known North American bilingual cards.
Photography & Text by D. Martin Myatt
Page built by Adam Lamping
comments powered by

Disqus