VAL (VANDOR-1)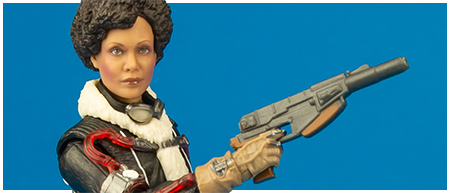 The Black Series
A no-nonsense and occasionally prickly woman who is a crack shot with a blaster rifle, Val may be the most even-headed and capable member of Tobias Beckett's ragtag crew of scoundrels.
The Val (Vandor-1) action figure featured on this page was officially revealed by Hasbro by way of a teaser image released on May 25, 2018. It was put on public display the following July at Hasbro's booth at the 2018 San Diego Comic-Con. This figure began hitting selves in GameStop in the U.S. in October 2018 along with 72 Imperial Patrol Trooper and 73 L3-37.

Product Information
Manufacturer:
Hasbro
Source:
Solo: A Star Wars Story
Year:
2018
Original Retail:
$29.99
Assortment Number:
E1208/B3834
UPC Number:
6 30509 73106 0
What's In The Box?
Val (Vandor-1) Action Figure
Grappling Hook Gun
Text & Photography by D. Martin Myatt
Page built by Adam Lamping
comments powered by

Disqus