There has never been a more wretched hive of comic book, figurine and toy collectors than this year's San Diego Comic Con. With over one hundred thousand people expected (a jump of thirteen thousand from last year's attendance figures) there are plenty of fans enjoying the awesome weather that San Diego has to offer. The Star Wars Pavilion is as incredible as ever and the event exclusives are already proving to be popular. This year Gentle Giant, Master Replicas and StarWarsShop.com are the booths to line up queue up in, and with the convention only hours old the lines are already long.
Of course the big news this year was the announcement that Sideshow Collectibles has managed to acquire the Star Wars 12" license, which is terrific news considering the stellar work they are capable of in the 12" scale. Complete details on the announcement right here.
Rebelscum has sent a detachment of crack reporters to photograph, interview and ask as many questions as possible to bring you the coverage you want. So sit back and enjoy the show. We thought we'd kick things off with a rundown of the news reports that were turned in during the big event.
July 13 (Preview Night)
Getting Ready for Comic Con
The official site gears up for the show!
First Report From The Floor
A quick run through of what's being setup before the doors officially open.
The Mystery 12 ROTS Figures Revealed
A list of the 12 new ROTS figures that were hinted at during CIII.
Titanium Series
Lots of the Titanium Series is on display, in a variety of scales.
Galactic Heroes
What's new in the land of the short and squat?
July 14
Sideshow Collectibles Wants Fan Feedback
How can you make a difference?
Code 3 Collectibles
Code 3 Collectibles answers fan requests.
Sideshow Collectibles Update
Details on the grand announcement.
July 15
Final Waves of '05
Hasbro runs down the wave and figure numbers for the end of the year.
Hasbro Presentation
One of the things we always look forward to at any convention is Hasbro's slideshow and Q&A session. This year is no exception, as Hasbro shows off their remaining 2005 products and what's in store for 2006.
July 16
Hasbro 2006 Plans: The Saga Collection
What's in store for next year?
July 17
Hasbro 2006 Plans: Unleashed Battlepacks
What exactly can we expect in this new line?
Photo Archives - Exclusives and Specials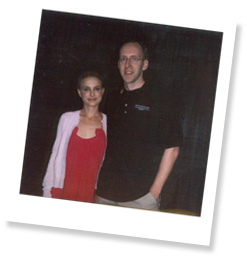 Natalie's a big RS fan ;)

---
Looking for more convention coverage? Checkout these recommended websites:
MWCToys.com
Action Figure Insider
Action-Figure.com
Want to know more about the convention itself? There's a nifty article on The "Secret Origin" of San Diego's Comic-Con International - right here.