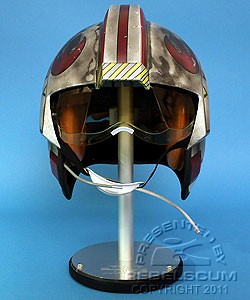 LUKE SKYWALKER X-WING PILOT HELMET
(Mark Hamill Signature Edition)
Source:
The Empire Strikes Back
Year:
2011
Assortment:
Prop Replicas
Retail:
$579
Limited Edition:
250
(Celebration V Exclusive)
Item Number:
01111012
Accessories:
• eFX Stickers
• Display Stand
• Numbered Plaque
• Metal Plaque Stand
• Certificate of Authenticity
Features:
• Fiberglass Construction
• Fully Lined Interior
• Acrylic Visor
• Microphone
Points of Interest:
• While this was meant to be a Celebration V Exclusive for 2010, production issues caused the release date to be pushed back to November of 2011.
• Collectors were given the option to have Mark Hamill sign their plaque at Celebration V in person or they could simply put their deposit down and wait until the helmets were ready to ship.
• This is the first officially licensed movie accurate X-Wing helmet prop to be made.
• There are currently two other X-Wing helmets in production – Luke Skywalker Episode IV & Wedge Antilles Episode IV
• Review & Photography by Chris Wyman.
Read the full review here
.

Back To eFX Collectibles