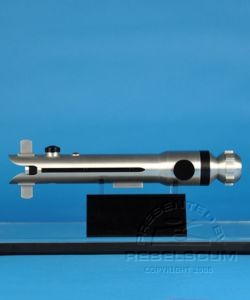 AHSOKA TANO LIGHTSABER
Dave Filoni Director's Edition
(Final Engineering Prototype)
Source:
The Clone Wars
Year:
2009
Assortment:
Prop Replicas
Retail:
$349
Limited Edition:
Up to 1000
Item Number:
01090002
UPC Number:
8 44818 00005 6
Accessories:
• Display Base
• Reversible Saber Support / Plaque Holder
• Numbered Plaque
• Dave Filoni Autograph on Plaque
• COA
• eFX Stickers
Points of Interest:
It's the first lightsaber made that was carried by an animated series character, and it's a terrific effort. eFX has managed a very nice fit and finish to the saber with a quality level I think we have come to expect from prop replicas, but one that is decidedly hard to achieve.
I had wondered if I'd be happy adding a weapon from the Clone Wars series to my collection, but it will fit in very nicely. This is due mainly to the heft of it the visual cues it takes from sabers that have come before it.
Including Dave Filoni's autograph is a real bonus for signature edition collectors.
Note, this saber was the Final Engineering Prototype and arrived without packaging and plaque. Also, the nifty integrated saber support and plaque stand, which allows you to swap the support locations so you can decide which side of the saber to show, are narrower than those that will be provided with sabers when shipped.
• Unique saber support allows owner to choose which side to display.
• Review & Photography by Philip Wise

Back To eFX Collectibles