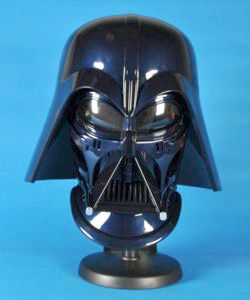 DARTH VADER HELMET
(Ralph McQuarrie Concept)
Signature Edition
(Engineering Prototype)
Source:
Star Wars Concept Art
Year:
2010
Retail:
$899
Limited Edition:
250
Item Number:
01090003
UPC Number:
8 44818 00006 3
Accessories:
• Custom eFX Display Stand
• Leather Lined Interior
• Numbered Plaque
• Numbered Signature Plaque hand signed by Ralph McQuarrie
• COA
Points of Interest:
My comments on the prototype: This is an extremely difficult piece to photograph. To be frank, I'm not really very happy with the photos and will shoot the released helmet differently. Any light on the piece makes it appear more blue than it appears in normal lighting. The blue is very dark, almost black, which is terrific. eFX has told me they might even get it even more dark blue. This particular helmet has been handled quite a bit and photo lighting also magnifies any imperfection, even some you can't see in-person. I say this not to make excuses for the photos, but more to convey this piece looks better than it photographed for me and I'm sure the released ones will come without the wear and tear this one has undergone. This helmet had no lining yet, and the lenses were just clear placeholders that I put a piece of felt behind so the blue background would not show through. Final ones will be dark smoke grey. Note: Shown with Master Replicas ROTS Vader Helmet for comparison.
• Review & Photography by Philip Wise

Back To eFX Collectibles