The 2011 Rebelscum Costume Contest was a major success! Hats off to all that entered. This year's costumes were pretty dang good, but some of them were absolutely amazing!
The competition for the Adults contest was very close, but Kristy G takes top honours with her Twi'lek Jedi Librarian with 27 points, followed by Daniel G's Jedi Luke with 12 points. For Kristy, we have a Darth Maul with Robotic Legs Premium Format Figure from Sideshow Collectibles and Daniel gets to take home a 12" Jawa action figure from Gentle Giant.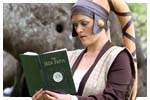 The Kids competition was very close with Benjamin W's Gonk Droid winning with 24 points and Anna M's Quinlan Vos coming up just behind with 18 points. For his winning entry Benjamin takes home a 12" Jawa action figure from Gentle Giant and 12" Captain Rex from Sideshow Collectibles and Anna gets a Yellow AOTC Clone Trooper from Sideshow Collectibles.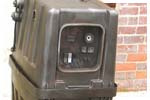 Follow these links to check out all the Adult and Kids entries.