Welcome to Rebelscum's annual coverage of San Diego Comic-Con!

The big event has wrapped up and Rebelscum was on hand to cover all the Star Wars collecting highlights. Looking for non-Star Wars toy news? Be sure to scope out Cool Toy Review for some very comprehensive coverage.



Each year the Rebelscum staff selects a "Licensee of the Year" to recognize companies that really put forth the effort to be an important part of the Star Wars collecting community. It isn't just about interesting or well-designed products - it's how the company listens to fans and works with websites.
This year, we are proud to announce Sideshow Collectibles has received the 2009 Top Honors. Congrats to every on the Sideshow team!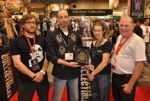 SDCC 2009 Photo Galleries:
Diamond Select Toys
eFX Collectibles
Gentle Giant
Hallmark
Hasbro Cabinets
Hasbro Cabinets 2
Kotobukiya
Official Pix Guests
Sideshow Dioramas
Sideshow Medicom
Sideshow Premium Format
Sideshow Sith Statues
Sideshow Stormtrooper Project
Star Wars Pavilion
The Empire Muggs Back
Windlass Studios

SDCC 2009 Panels and News:
Dark Horse Offerings
Gentle Giant Report
Sideshow Collectibles Panel
Sideshow High End Collectibles Panel
Star Wars in Concert Announcement
TCW Season 2 Preview

Here's a rundown of SDCC collecting news over the past couple weeks
July 18, 2009
Lucasfilm Photo Ops At SDCC 2009
July 17, 2009
World Famous Comics At San Diego Comic Con
July 17, 2009
Mimoco Custom Design Show At SDCC 2009
July 16, 2009
Lucasfilm Portfolio Review At SDCC 2009
July 16, 2009
StarWarsShop SDCC 2009 Online Store
July 14, 2009
Customized Mighty Muggs At SDCC 2009
July 10, 2009
Collectible Book Signing At SDCC
July 9, 2009
Kotobukiya Prizes At SDCC 2009
July 8, 2009
Official Pix SDCC Guest List Grows
July 2, 2009
New OPX Metallix 10x20 Prints At SDCC
July 2, 2009
SW Fan Club Breakfast Raffle At SDCC
June 29, 2009
OPX Limited Mark Hamill Pic At SDCC
June 24, 2009
G4 To Broadcast SW Panel From SDCC
June 24, 2009
OPX Tickets For SDCC SW Fan Club Breakfast
June 18, 2009
SDCC 2009 Star Wars Fan Club Breakfast