STORMTROOPER COLLECTION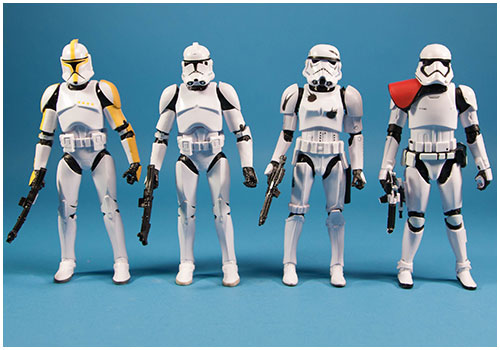 The Black Series Amazon Exclusive
PHASE I CLONE TROOPER COMMANDER: Created in secret by Kaminoan cloners, the first Clone Troopers were deployed to protect the Jedi during the battle of Geonosis
PHASE II CLONE TROOPER: As the Clone Wars drew to an end, Chancellor Palpatine issued Order 66, turning the Clone Troopers against their Jedi allies.
IMPERIAL STORMTROOPER: Under the tyrannical rule of the Empire, Stormtrooper legions ruthlessly crushed resistance across the galaxy.
FIRST ORDER STORMTROOPER OFFICER: Equipped with sleek armor and powerful weapons, the Stormtroopers enforce the will of the First Order.
This army builder set was revealed on September 4th 2015, aka Force Friday, and is essentially a 6-inch version of the Clone Trooper to Stormtrooper Evolutions set that was released as part of the Revenge of the Sith line in 2005, expanded to accommodate a Stormtrooper from the First Order. The set began shipping in early November, nearly a month sooner than originally estimated.
PHASE I CLONE TROOPER COMMANDER
PHASE II CLONE TROOPER
IMPERIAL STORMTROOPER
FIRST ORDER STORMTROOPER COMMANDER

Product Information
Manufacturer:
Hasbro
Year:
2015
Original Retail:
$79.99
Product Number:
B4053
UPC Number:
6 30509 38993 3
What's In The Box?
Phase I Clone Trooper Commander Action Figure
BlasTech DC-15S Blaster
BlasTech DC-15A Blaster Rifle
Phase II Clone Trooper Action Figure
BlasTech DC-15S Blaster
BlasTech DC-15A Blaster Rifle
Imperial Stormtrooper Action Figure
BlasTech E-11 Blaster Rifle
Blaster Rifle
First Order Stormtrooper Commander Action Figure
F-11D blaster rifle
SE-44C Blaster pistol
Text, Photography and Page Built by Adam Lamping
comments powered by

Disqus