ALIEN HAMMERHEAD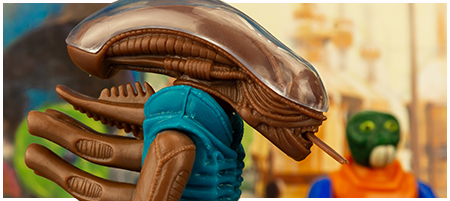 2018 San Diego Comic-Con Exclusive Reaction Figure
What appears to be an Alien with the same color scheme as a 3.75-inch 1979 classic Kenner Star Wars Hammerhead action figure, goes much deeper into the history of the unproduced Kenner 3.75-inch Alien toy line. This is a tribute piece created in homage to the first 3D prototype for the 3.75-inch Xenomorph at Kenner in 1979. That piece was kit-bashed together in the Kenner model department using a 1979 Star Wars Hammerhead figure. Bondo, wax, wood and paint were applied to the figure to transform it into a piece that was to be used internally at Kenner meetings, for presentation purposes for introducing the 3.75-inch Alien line.
The piece was impressive enough to move the project forward, where other sculpts and hardcopies were created for five main characters, the Xeno (Alien), Kane, Ripley, Ash, and Dallas. Other pieces such as playsets and die cast ships were to be created also. The 3.75-inch Alien line was to be completed and ready for stores by 1980. The production of the 3.75-inch line was cancelled right before showing them at that year's Toy Fair, as a result of the R rating the movie received, along with the bad reception Kenner's 18-inch Alien received from parents. Needless to say, Super7 produced the 3.75-inch line in 2013, which utilized new sculpts for all the figures except Kane, and wanted to pay tribute to the one prototype that started it all: the Hammerhead Alien. Along with the tribute to the prototype, Super7 designed the card art to resemble The Power Of The Force vintage Kenner Star Wars cards, with collector coin.

Product Information
Manufacturer:
Super7
Year:
2018
Original Retail Price:
$15.00
SKU:
8 11169 03086 5
What's In The Box?
Alien Hammerhead Action Figure
Collector Coin
Text by Steve Dwyer
Photography by D. Martin Myatt
Page built by Adam Lamping
comments powered by

Disqus