1997 Taco Bell Star Wars:SE Promotion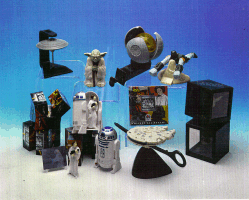 Applause made eight Star Wars Taco Bell premiums given away during the U.S. Special Edition release promotion. I was lucky enough to receive a set of the toys from Applause so I could put infomation about them on my web site. The picture above was provided by Applause. The toys are really great overall. Not cheap throw away toys, but something worth collecting. The toys are Balancing Boba Fett, Puzzle Cube, Yoda, Millennium Falcon Gyro, R2-D2 Playscape, Exploding Death Star, Bespin's Cloud City and Magic Cube,

Toy notes:

Boba Fett flies over the Pit of Carkoon.
Puzzle Cube has four scenes from the Special Edition.
You engage the Falcon's engines with a pull and it appears to fly on its stand.
You can put Leia inside the R2-D2 playscape and it comes with a movie card.
The Death Star spins, opens and you can see sparks inside. Initially the Death Star spinner was pulled from the promotion because it was coming apart under heavy use. It was later replaced by spinners that were modifed to prevent the failures.
Cloud City floats in mid-air
You can see Vader and Yoda in the Magic Cube, but never at the same time. My favorite.
Yoda was the under age three toy that was availabe all during the promotion.

1997 International (non-U.S.)
Star Wars:SE Promotion (part)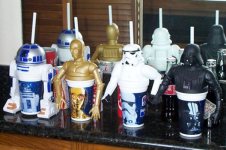 KFC Cups
These four cups were only offered outside the US during the Special Edition promotions at Kentucky Fried Chicken restaurants. Each cup came with a vinyl top and a straw. As you can see they make a very nice looking set.