DARTH VADER (EMPEROR'S WRATH)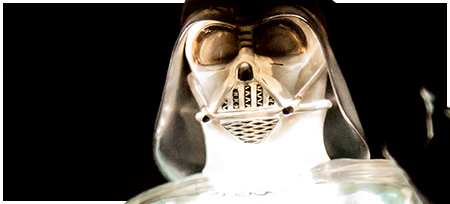 Mini Bust
With the belief that there was still good in his father, Luke Skywalker tried to turn Darth Vader back to the light side. The Emperor taunted and tempted Luke, leading to a final duel between Vader and his son. Giving in to his hate, Luke overpowered Vader, cutting off his hand and poised to deliver the killing blow. The Emperor commanded that Luke finish his father and join the dark side, but the young Jedi refused, opting instead to throw away his Lightsaber. Enraged at this denial, the Emperor shot Force lightning into Luke, torturing him. Vader rose, the good in him awakened by his son's compassion, and destroyed the Emperor. While he had suffered fatal injuries from the Emperor's lightning, Vader's redeeming final act restored his consciousness to Anakin Skywalker, and he had one last moment with Lukebefore peacefully accepting his death.
The Darth Vader (Emperor's Wrath) mini bust was digitally sculpted using top of the line 3D software and prototyped using 3D Systems industrial 3D printers. Hand-cast in translucent resin with a light-up feature, this limited edition hand painted collectible includes a certificate of authenticity. May the Force be with you.
Gentle Giant Ltd. kept the Darth Vader (Emperor's Wrath) mini bust featured on this page under wraps until its reveal at the 2017 San Diego Comic-Con. It went up for pre-order on November 16, 2017. and began shipping the following June.

Product Information
Manufacturer:
Gentle Giant
Year:
2018
Source:
Return Of The Jedi
Edition Size:
1000
Original Retail:
$130.00
Item Number:
80846
UPC Number:
8 71810 02215 1
What's In The Box?
Darth Vader Mini Bust
2x AA Batteries
Certificate of Authenticity
Text & Photography by D. Martin Myatt
Page Built by Adam Lamping
comments powered by

Disqus