HOLOGRAPHIC DARTH MAUL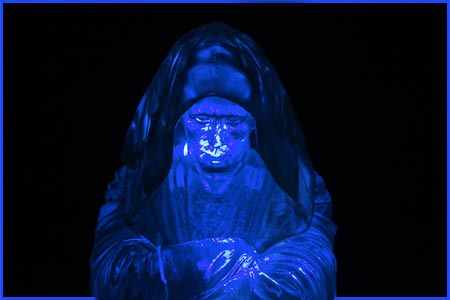 Collectible Mini Bust
Originally a Zabrak from the planet Iridonia, Darth Maul abandoned all traces of his former identity when he took on the Sith name and became a deadly disciple of the evil Darth Sidious. His devotion to the dark side was so extreme that he underwent the application of detailed tattoos to his entire body. Darth Maulís primary weapon is a double-ended Sith lightsaber. It can be selectively used with only one end ignited. Customized controls increase its lethality and allow each bladeís length to extend from half a meter to one-and-a-half meters.

Product Information
Year:
2008
Original Retail:
55.00
Edition Size:
2,500
Item Number:
9056
UPC Number:
8 71810 00141 5
Points of Interest
Requires 3 LR44 button cell batteries which are included.
The mold for this exclusive is the same as the 2006 Darth Maul Mini Bust minus the movie accurate paint applications.
This was produced exclusively for the 2008 Star Wars The Exhibition Brussels part of the traveling tour.
Photography by Chris Wyman
Edited by D. Martin Myatt