PADMÉ AMIDALA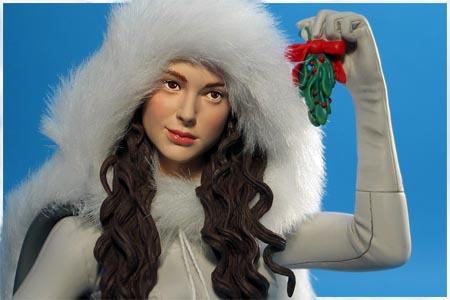 Happy Holidays 2010 Mini Bust
Every year Gentle Giant ltd. produces a special promotional Star Wars mini-bust, and for 2010 it was a slight variation of their Premier Guild Members exclusive Padmé Amidala (Snow Bunny) mini-bust.

Product Information
Year:
2010
Original Retail:
n/a
Edition Size:
200
Item Number:
80151
UPC Number: 8 7181000824 7
<! remove list below if no points of interest -->
Points of Interest
The Happy Holidays 2010 Padmé Amidala mini-bust was limited to only 200 pieces and was not available for sale.
Unlike the Premier Guild version, which has a painted blaster, the weapon in the holster on the Happy Holidays 2010 version is solid white.
This version of the mini-bust has a black base with text unique to this release. The Premier Guild version has a silver base.
This version of the mini-bust was packed in a unique white box while the Premier Guild version was packed in the standard design black box.
Photography and Text by D. Martin Myatt