REPUBLIC COMMANDOS
Boss, Fixer, Sev, & Scortch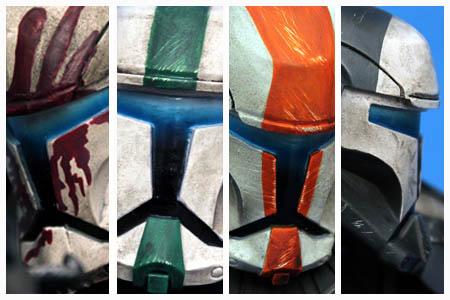 Collectible Mini Busts
Equipped with specialized weaponry like the DC-17m rifle, special tactical visors, and Katarn-class body armor, the Republic commandos can infiltrate the deepest, darkest reaches of the Separatist strongholds. The Clone Wars were won or lost, more often than not, due to the efforts of small, annoymous squads of Republic commandos, working behind the scenes and deep behind ememy lines to do what larger armies could not. These highly-detailed mini busts, based on the original Lucasfilm costumes and props, where sculpted and painted by Gentle Giant Ltd.

Each one of these Mini-Busts was also available seperately as an exclusive and each had a run of 1,300 pieces in addition to the 200 available through this special Limited Edition Collector's Set.



Product Information
Year:
2010
Original Retail:
$300.00
Edition Size:
200
Item Number:
80047
UPC Number:
8 71810 00784 4
Point of Interest
Each piece in this set comes as one solid piece with no accessories.
Instead of individual COA's for each piece, this set comes with one larger COA.
Gentle Giant worked out a deal with ACME Archives Limited to include a stunning hand numbered 10.5" x 15" Fine Art Lithograph titled "Star Wars Republic Commando" by Greg Knight with each set.
Gentle Giant used their infamous raffle system to make things as fair as possible for their Premier Guild Members. An email was sent out allowing each member to place an order for one of the 200 sets available. A random lottery was used to select the 200 members who were lucky enough to have their orders filled. Everyone else received an email notifying them that they had not been chosen.
This is the second time Gentle Giant has produced a large set like this. Previously, they did the Clone Commander 5-pack in 2007.
Photography by Chris Wyman
Edited by D. Martin Myatt