TRASH COMPACTOR BOOKENDS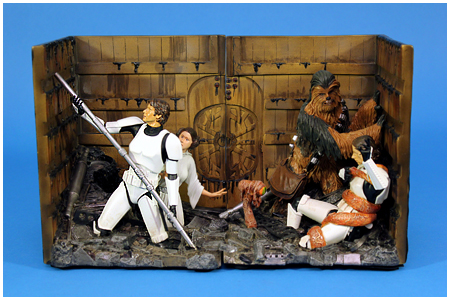 Collectible Bookends
The valiant rescue of Princess Leia takes a turn for the worse when our heroes evade on-rushing Stormtroopers by jumping down a garbage shoot. The situation turns grim when the Dianoga Garbage Squid Shows up and the Garbage Compactor's walls begin to close in!

Cast in high quality Poly stone then hand painted to exacting standards. Each is then numbered and comes complete with matching certificate of authenticity and is a limited edition. Measuring 6" deep, 12" Wide and 7.5" high, these bookends are well suited for DVD's, Books and Graphic Novels. The modular aspect allows the consumer to display them in a number of ways.

The Trash Compactor piece marks the fourth time that Gentle Giant has produced a bookend style Star Wars collectible.





































Year: 2011
Original Retail Price: $199.00
Item Number: 9104
UPC: 8 71810 00220 7
Regular Edition Size: 1,100


Photography by Chris Wyman
Edited by D. Martin Myatt


Back To Gentle Giant