JAR JAR BINKS WITH W. WALD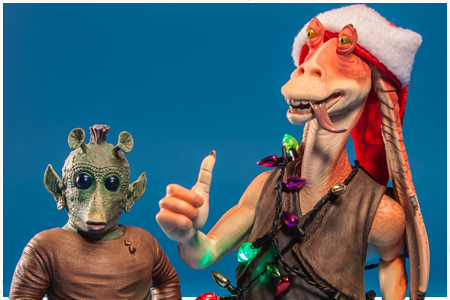 2012 Premier Guild Exclusive Holiday Deluxe Mini Bust Set
For years, Star Wars fans have been asking for Jar Jar Binks in Mini Bust form and for years, itís been a huge hole in many collections. Now, the wait is over! Love him or hate him, heís in integral part of the Prequels and no Episode I shelf would be complete without him. Gentle Giant excels at making CGI and helmeted characters above all else and this piece is no exception. With the optional addition of a Santa hat and lights, he also makes the perfect Christmas decoration. W. Wald gets some love too and comes packed in with Jar Jar making this quite the formidable Episode I Deluxe 2-pack..

Product Information
Manufacturer:
Gentle Giant Ltd.
Collection:
Mini Bust
Source:
Star Wars: The Phantom Menace
Year:
2012
First Revealed:
San Diego Comic-con -July 2012
Pre-Order Date:
July 2012
Ship Date:
December 2012
Original Retail:
$119.99
Edition Size:
600
Item Number:
80297
UPC:
8 71810 00951 0
Included in the box:
Jar Jar Binks Mini Bust
W. Wald Mini Bust
Holiday Lights
Santa Hat
Certificate of Authenticity
Points of Interest:
Jar Jar was originally shown in plain clothes without the Christmas attire at San Diego Comic Con 2012. Before the show wrapped, both versions had been revealed. Gentle Giant made him the 2012 Holiday Gift Mini Bust as well as putting him in the Deluxe 2-pack with W. Wald sporting optional Christmas attire.
After being solicited as a light-up collectible, Gentle Giant announced that due to time constraints, the light-up feature along with the battery pack would not be included. However, fan outcry saw to it that they did in fact keep this fun feature and it was put back in place for both the gift and 2-pack Deluxe versions.
The bottom of both busts is silver in color making it different than the black color we typically see. This has become the standard on Holiday pieces over the years differentiating them from regular releases.
Photography D. Martin Myatt
Text by Chris Wyman
Page Built by Adam Lamping