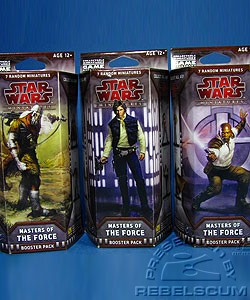 MASTERS OF THE FORCE
(Booster Packs)
Source:
Star Wars
Saga
Year:
2010
Contains:
7 Miniatures from the Star Wars Universe
Full-color Game Stat Cards
Set Checklist
Comments:
There is a disturbance in the Force... The greatest
Star Wars
heroes and villains of all eras explode into battle across the galaxy! Experience the power of these mighty wielders of the Force as they face off in epic confrontations!
Points of Interest:
Back To Masters of the Force