EMPEROR PALPATINE
(Quick-Change Action!)


Source:
(Revenge of the Sith)

Year: 2006

Assortment: Force Battlers

Retail: $9.99

Assortment Number: 85668/85179

UPC Number: 6 53569 05710 9

Weapons and Accessories:
Quick-Change Action!
Force Lightning
Magma Ball
Lightsaber
Lightsaber Blade
Comments: As a Star Wars Force Battler, Emperor Palpatine will do whatever it takes to gain ultimate power! Armed with cool galactic gear and awesome weapons, this evil villain is prepared to battle across the galaxy if necessary!
Prepare for the ultimate battle! Turn the thumbwheel to reveal Force-damage in Palpatine's face: the wicked effects of the Dark Side! Fire the launching force lightning at his enemies! Emperor Palpatine figure comes with lightning and magma ball accessories!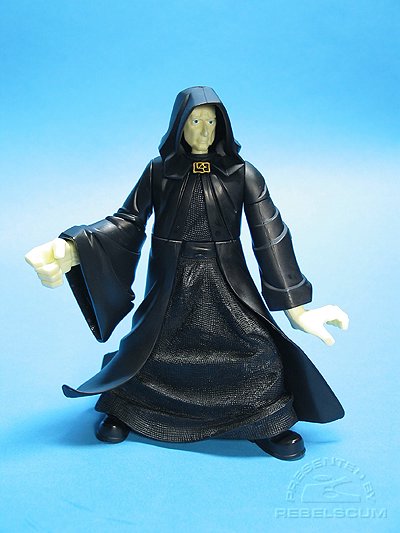 Roll over image above to see it in action!

Points of Interest:


Prepare for the ultimate battle! Turn the thumbwheel to reveal Force-damage in Palpatine's face: the wicked effects of the Dark Side! Fire the launching force lightning at his enemies! Emperor Palpatine figure comes with lightning and magma ball accessories!
Photography by Dave Myatt

Back To Force Battlers