DARTH VADER - TIE ADVANCED


Source:
(A New Hope)

Year: 2006

Assortment: Transformers

Retail: $19.99

Assortment Number: 85895/85772

UPC Number: 6 53569 09865 2

Weapons and Accessories:
2 Projectile Lightsabers
Darth Vader pilot figure
Spinning Mech Disk

Comments: Get ready to blast into hyperspace! The Star Wars Transformers have arrived at a galaxy near you.

Careful, your senses can deceive you. These classic Star Wars vehicles are MORE THAN MEETS THE EYE! Your favourite heroes and villains collide in this awesome collection of mode-changing figures that you'll find to be full of surprises...

Converts from Advanced TIE Fighter vehicle to Jedi-crushing Sith Lord!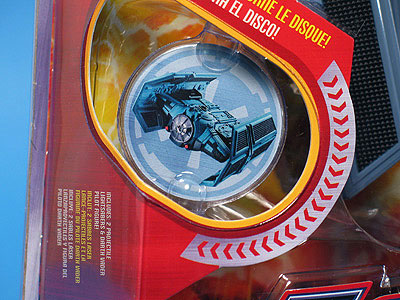 Roll over image above to spin disk!

Points of Interest:
Darth Vader, a sinister lord of the Sith, is on a mission to crush the rebellion and bring young Luke Skywalker before the Emperor. Using the power of the dark side, Vader changes into his Advanced TIE fighter mode and combs the galaxy for Skywalker, destroying all rebel ships, pirate fleets and asteroids that get in his way.
Photography by Dave Myatt and Dan Curto

Back To Star Wars Transformers